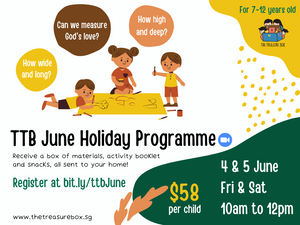 COME JOIN US FOR A SPECIAL JUNE HOLIDAY PROGRAMME!
Specially for the 7 to 12 years old, it will be a great time of praise and worship, fun games, team challenges, and learning from God's Word. We will be studying Ephesians 3:18-19 together over the 2 sessions!

All materials, including colour printed activity booklet and craft materials (we are going to make a real kaleidoscope!) and of course, snacks (yeah!), will be sent to you before the 2-session programme.

We are limiting capacity to only 40 participants each session. So quickly register to avoid disappointment! :)

There are 2 runs available.
1st run: 4 to 5 June (Fri - Sat), 10am to 12pm
2nd run: 7 to 8 June (Mon - Tue), 10am to 12pm
3rd run: 7-8 June (Mon - Tue), 2pm to 4pm 
4th run: 21 - 22 June (Mon - Tue), 10am to 12pm

The 2-session programme over 2 days will be $58 per participant, inclusive of trackable courier service of the programme box to your home.
Dear parents, please remember to choose your child's age when registering (placing your order).

Do also indicate the following in the notes/comments when placing the "order":

(1) Name of child attending
(2) Food allergies, if any
(3) Church you are attending

The zoom details will be sent to you 1 week before the programme with other things to note. :)
We look forward to meeting each of you this holiday! 
------------------------------
IMPORTANT

We seek your understanding that no refund will be made if the registered participant does not attend the programme for any reason, whether in full or in part, or chooses to withdraw from the programme within 14 days (including the 14th day) leading up to the programme.

If the decision to withdraw is made known to the organisers more than 14 days prior to the commencement of the programme, you may write in to request for a refund of 50% of the total paid registration fee.